At l'Île aux Fées, we strive to make each purchase a delightful experience in the magical world of childhood. In their style and details, our dresses are very special.

Handmade within our atelier by the skilled fairy hands our passionate team of embroiderers, each one is made with care and love

Made in highly limited editions sometimes unique version, our dresses are one-of-a kind

Selecting the softest cottons, most elegant velvets, precious tulle and organza and most gorgeous Liberty prints, only the best of fabrics are used for our dresses.

Made with traditional couture techniques, our dresses are of high quality. All our hems are stitched by and to obtain a completely invisible seam, as clean from the inside as from the outside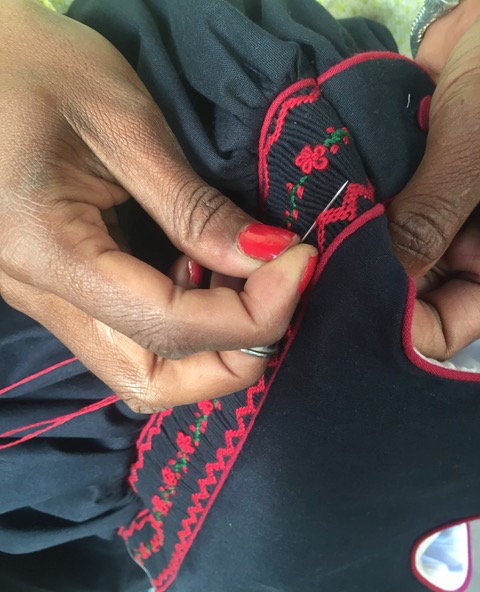 Until the very last button, each and every detail matters. Our buttons are self covered in fabric matching the dress colours, two additional buttons are discreetly sewn in the side hem in case of lose and some of our dresses come with a small extra loop button for a perfect closing

Smocked or embroidered, each one is a real work of art. The fabric is manually pleated with great delicacy, our embroideries are made with traditional hoops. The result is so precise that we talk "peinture à l'aiguille" meaning needle painting. Our amandine dresses also have refined embroideries upon the sleeves.

Thank a handmade cotton lining, all our dresses twirl making little girls feel like princesses! Our Netti dress even have additional tulle underlayer sewn upon the lining creating a wide and airy skirt.

As pretty from front and back, a delicate bow with the shape of butterfly wings adds a chic finishing touch. It is one of our signature detail.
Last but not least behind each dress lies not only a precious skill but most of all a human heart and soul. Our atelier enables Madagascan women to value their expert work and earn a decent living.